Surprise Summer Sale: 95% OFF for Lifetime Access to Mondly Premium
|

June 22, 2022
The hottest sale of the year is here.
Ready to get fluent as you chill under the palm trees? Get Mondly and unlock 41 languages for LIFE at an unprecedented 95% OFF.
Turning downtime into uptime has never been this fun. And affordable!
Read on for more details about this exclusive summer sale.
Make the most of your summer with Mondly
Vacations are great! Drinking piña coladas until you doze off as the sun caresses your skin, listening to the sound of the wind as it intertwines with that of the waves, watching clouds create unique shapes in the sky. Italians call that dolce far niente and it's the best feeling ever.
Until it isn't. Doing absolutely nothing can sometimes become… boring. Luckily, all you have to do to enjoy your vacation again is to give your brain a mental workout.
According to science, one of the best workouts for your brain is to learn languages. Do you want to learn Spanish, French, German, or a less widespread language like Korean or Persian? Language learning app Mondly can help you learn all these languages and even more.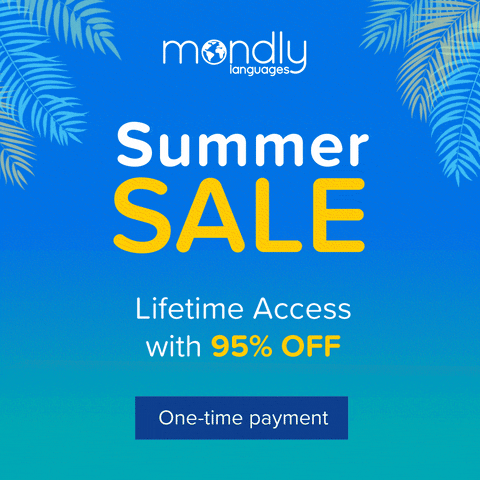 What better time to take advantage of the 95% OFF offer from Mondly? You pay once and get access for life so you can make the most of all your future summers!
The benefits of Mondly Premium
Do you want to build practical language skills for real life? Speak foreign languages as easily as you do inside your head? Mondly can help you achieve all this and even more!
Say goodbye to tiring memorization techniques, entire pages full of conjugations and expensive tutors. Mondly makes learning any language a breeze under the palm trees. Claim the offer now and get access to:
hands-on, interactive lessons to help you study in short bursts every day;
crystal-clear audios of native speakers so you can learn from the best;
practical topics to help you build useful language skills for real life;
real-life conversations so you can experience immersion;
smart suggestions and instant feedback on your pronunciation.
Mondly was named "App of the Year" by Facebook and "Best New App" by Apple having over 100 million downloads. It combines a conversation-focused curriculum, speech recognition, and bite-sized lessons that will get you fluent faster, easier and smarter than any other language course.
Hurry up to get the Mondly lifetime offer and gain access to all the amazing benefits included in Premium:
| Mondly Features | Free | Premium |
| --- | --- | --- |
| Keep your mind sharp with quick Daily Lessons, Weekly Quizzes & Monthly Challenges | ✅ | ✅ |
| Full access to 41 different language courses – a total of 1320 language combinations | – | ✅ |
| Master the basics with 250+ lessons organized into practical topics – from family, weather, travel, to sports, food, and many more | – | ✅ |
| 36 vocabulary builders to learn new words fast and cement your knowledge | – | ✅ |
| Learn pronunciation with 50+ conversations between native speakers | – | ✅ |
| Grammar features & conjugation tables to deepen your understanding of the language | – | ✅ |
| Access to the entire collection of over 2500 Daily Lessons, Weekly Quizzes & Monthly Challenges we have been creating since 2015 | – | ✅ |
| 108 different English language progress tests with content from Pearson | – | ✅ |
| Over 300 specialized lessons with business content for personal improvement & workforce training | – | ✅ |
| Free access to Mondly Kids, our language learning app for children | – | ✅ |
| Free access to the 13 Augmented Reality lessons in Mondly AR to take your learning experience to the next level | – | ✅ |
---
Low stock selling fast
It's the moment you've been waiting for.
Lifetime access to 41 languages. 95%‌ OFF only for a limited quantity. One-time payment.
Hurry up! Get Lifetime Access to Mondly Premium with 95% OFF!