Mondly Introduces Hands-Free, the New Way of Learning Languages on the Go
Say hello to the future. Hands-Free language learning is here.

We are thrilled to introduce Hands-Free, an all-new learning assistant that will help unlock your speaking skills on the go. Readily available in the Mondly iOS app, Hands-Free uses state-of-the-art speech recognition and quick engaging lessons to put your listening and speaking skills to the test in more than 20 languages.
A decade ago, people relied on stereos and CDs for listening practice. Although expensive and often hard to find for less widespread languages, this was the only option available back then. But in recent years, technology has pushed the boundaries further than we could ever imagine. A Mondly in-depth course costs less than a regular pair of shoes and the stereo is now a smartphone that dynamically adapts content to fit your learning style.
Today, we made this process completely hands-free. Get ready to experience a new dimension of language learning.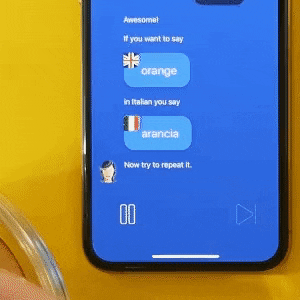 Cook, clean or work out – all while learning languages with Hands-Free
We know how hard it can be to fit learning into your jam-packed schedule or routine. This is why we made it possible for you to learn Spanish, French and more completely hands-free while also carrying out other activities. Whether you are working out, doing chores around the house or simply relaxing at the end of the day, Hands-Free allows you to simultaneously learn a new language.
Easily recognizable by its purple microphone symbol, Hands-Free makes the entire content of Mondly – including Daily Lessons – available in interactive audio format. For this reason, if you don't feel like it, you don't even need to keep your eyes glued to the screen. Your new learning assistant will always keep the conversation going with instant feedback and constant encouragement.
Do you speak Arabic, Chinese, Czech, Danish, Dutch, American English, British English, Finnish, French, German, Greek, Hungarian, Indonesian, Italian, Japanese, Korean, Polish, Brazilian Portuguese, Russian, Spanish, Swedish, Turkish, Ukrainian or Vietnamese?
Then the languages you can learn with Mondly Hands-Free are Arabic, Chinese, Czech, Danish, Dutch, American English, British English, Finnish, French, German, Greek, Hungarian, Indonesian, Italian, Japanese, Korean, Norwegian, Polish, Brazilian Portuguese, Russian, Spanish, Swedish, Turkish, Ukrainian and Vietnamese.
The key benefits of Mondly Hands-Free
Over the years, we analyzed the feedback from over 60 million users and identified speaking practice as the key to rapid learning progress. Speaking the language from day 1 is the fastest way to fluency and our winning strategy is Readback – Recall – Repeat.
Why? Because with practice, a skill moves from controlled to automatic processing, which results in fluent use of language. Moreover, the activation of automatic processing requires no conscious attention or active involvement.
Readback is more than feedback
Speech recognition allows you to reach native-level pronunciation while developing an intuitive understanding of the language structure.
Recall
Refreshes your memory and turns you from tongue-tied to confident.
Repeat
Mondly's undular repetition transforms new words and phrases into old friends.
Designed for busy bees, tech aficionados or merely language enthusiasts, the Hands-Free feature is dynamic. This means that it will go over certain words and phrases again if you get them wrong. Hands-Free knows exactly how much practice you need and won't stop until you're perfect. Here are the key benefits you can enjoy with Hands-Free:
Professor-level feedback automatically detects your challenges and provides adaptive guidance fully powered by speech recognition;
Dynamically adapted course content which varies teaching methods to fit your personal learning style;
Learning on the go – easily transform downtime into quick engaging lessons to benefit from speaking practice on the fly;
Intuitive pacing and productive sessions – the pace and teaching style of lessons are constantly adjusted. The AI learns your strengths and weaknesses quickly, and structures lessons accordingly.
Experience a new dimension of language learning
We've always believed that by giving people wonderful learning tools, you enable them to grow and enjoy learning more than ever before. This is why the deep focus on smart technology is the foundation of most of our products. In 2017, we brought language learning with chatbot and speech recognition to VR and one year later we made it possible in AR as well.
Today, we give you completely Hands-Free language learning. Intuitive, engaging and dynamic – it answers to your voice and offers an experience that you won't find anywhere else.
With this breakthrough feature, Mondly becomes more clever than ever before and makes way for a truly voice-powered future.
And this is just the beginning.
---
Take Mondly Hands-Free for a test drive
Be the first to try a new dimension of language learning. An adventure awaits at the sound of your voice.
Mondly Hands-Free is currently available in over 20 languages for all our learners on iOS. Go to the app and give it a go now.