40 New Conversations Are Here for You
Hey, language learning enthusiast! We added 40 new conversation exercises in Mondly. Here's everything you need to know about the update.
An adventure awaits at the sound of your voice.
Do you like to learn by doing? Have you always dreamed of being able to learn a language in your sleep? Well, now you can! With these 40 new conversation exercises we added in Mondly.
Listen, read, repeat, record!
We knew you wanted even more. So we got people talking. 40 new conversations recorded by native voice artists are now ready for you in Mondly. This means the learning process is even swifter than before. You get to study the lesson, expand your vocabulary and then employ what you've learned with a dedicated conversation exercise.
Just choose the topic you want to learn about, go to Conversation, press start and let's get you talking! First, you'll hear the sentence pronounced by a native. Take your time, replay it as many times as you need and then tap the microphone and hold to record your own version.
There you go! That's you speaking perfect Spanish like you always dreamed you would.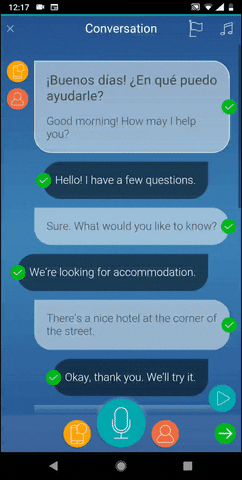 This is the perfect chance for you to practice pronunciation and get your accent on point. Before you know it, you will find yourself speaking new languages like you never knew you could.
---
Do you want to try it for yourself?
Start learning a new language and discover the power of conversations now!