Mondly Tips and Tricks: Review What You've Learned
Mondly in News
Hey, language aficionado! Do you want to review what you've learned? Mondly has your back.
Today we are talking about a Mondly hidden gem that will revolutionize the way you learn for good: the "Review" button.
Using the "Review" button, you can now recap what you've learned after each Mondly lesson.
Use "Review" to recap what you've learned
The "Review" button was created especially for those times when you feel the need to quickly recap all the freshly stored words at the end of a Mondly lesson.
There's nothing simpler. With just one tap of a button, you get access to an overview of all the words, phrases and conjugations you've just studied. Because repetition is the key to learning.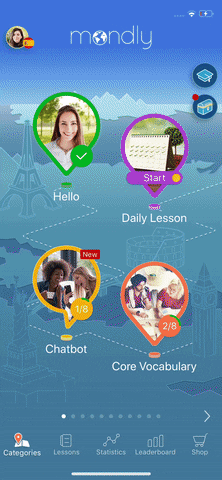 Besides, in time, if your brain gets rusty and you want to re-learn a certain topic, the "Review" button comes in handy again. Just go to the lesson you want to recap and use the power of "Review" to brush up your knowledge faster than one can say "Jack Robinson".
---
With Mondly, fluency is literally at your fingertips
In just two minutes a day, you can learn a language for life. So what are you waiting for?
Get Mondly and get smart!